$30,000+ Investment from Lancaster Cares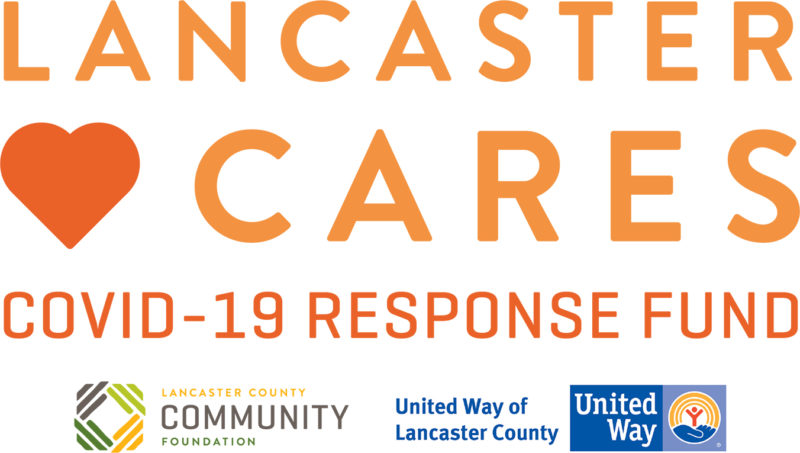 We are proud to announce another $30,500 investment in five local community benefit organizations to meet the ongoing COVID-19 crisis in Lancaster County.
Thanks to your support to the Lancaster Cares COVID-19 Response Fund, we have together raised nearly $1 million for Lancaster residents. Because of the countless individuals helping to lift up the Lancaster Cares fund, the Community Foundation and the United Way of Lancaster PA are able to provide aid to vital local programs meeting the need of our friends, neighbors, and families, including populations of color which are disproportionately affected by this crisis.
In the past week, you helped support programs that provide meals for families and individuals, a program that monitors the free-roaming cat population, as well as, initiatives that will provide computer equipment for students and PPE for individuals with intellectual disability and autism.
We are proud to be able to help support these organizations thanks to the extraordinary contributions across Lancaster county, our partnership with the United Way, and our community endowment: people-powered resources to help build our shared future.
Learn about this week's grantees
We received a large amount of applications for funding, and while we weren't able to fund all the ideas, we are proud to be able to make small grants to as many organizations as possible, seeding many new and creative ideas to address the needs of our community.
Click below to view each organization's proposed Lancaster Cares program and grant amount.
Food Access
PRiMA Arts, Inc.: "Feeding Local Theatre Artists"
Grant amount: $2,000
Prima is providing $100 grocery store gift cards to local out-of-work theatre artists (performers, designers, directors, musicians, administrators, arts bookkeepers, technicians) to feed themselves and their immediate family.
San Juan Bautista Church: "Summer Meal Programs"
Grant amount: $10,000
We are requesting funding to help offset food costs for those in need in our Southeast community. Since COVID, the amount of people that we serve hot meals to has more than doubled. For example, in June of 2019 we served 119 families. This year we served 356 families. We are getting food requests daily and do not see the number decreasing anytime soon. 99% of those who come to us are from OUTSIDE of the parish community, meaning they are of other faith affiliation (or no affiliation at all).
Emerging Needs
Friendship Community: "Personal Protective Equipment"
Grant amount: $5,000
Friendship Community is a licensed provider of care for Individuals with Intellectual Disability and Autism. Our Team Members are front line fighters against COVID-19, however, we face critical shortage of Personal Protective Equipment (PPE). During this challenging time, financial support will help Friendship Community purchase these life saving supplies and will allow us to continue to care for and protect our Individuals.
Thaddeus Stevens Foundation: "Computer Equipment Fund for Students"
Grant amount: $10,000
Improve 10 low-income post-secondary students' learning by acquiring and loaning computer laptops with software, plus internet subscriptions as needed, so students can enroll and persist in their education toward an associate degree whether they attend Thaddeus Stevens College's in-person classes or must use online learning platforms due to Covid. Some students have only their smartphones for internet access, which inhibits learning.
Meeting these needs are possible because of you
Thanks to your extraordinary generosity, Lancaster Cares has raised more than $980,000 to support our neighbors, friends, and families across Lancaster County. These are new and unpredictable challenges, and the solutions must change with them. But fortunately, what's most important for creating these solutions has not changed: our extraordinary generosity is shining through these dark times. Our roll-up-your-sleeves, get-the-job-done attitude will pull us through, as it has before. Our generosity is lifting our fellow Lancastrians up; keeping food on their tables, a roof over their heads, and maybe most importantly, offering the hope to see us all through this crisis.
Thank you for supporting Lancaster Cares, and if you haven't yet, give now at LancoCares.org!
Thank you to community champions from both the private and public sector who are tirelessly committed to Lancaster County:
Rodgers & Associates

PPL Corporation

Armstrong Flooring
Community Fund

Truist Cares Fund

7 Foundation Fund

Anne and Robert Bowman
Family Fund

High Foundation

Altria Group, Inc.

LCBC Lancaster City

The Calvin & Janet High
Family Foundation

Mars Wrigley Foundation

North Group Consultants

Arconic Foundation