Community Bridge Builders Program
The Community Bridge Builders Program supports and promotes visionary projects seeking to bring historically or recently divided groups into harmony with one another. In today's America, social media, the political landscape, and public discourse have become so polarized and tension between groups feels frightening and unsustainable. Lancaster County is filled with creativity, compassion and caring. We challenge our county's CBO leaders to identify new programs to erase hate and prejudice, and to advance welcoming and appreciation of differing perspectives. The Community Bridge Builders Program will create bold pathways for all residents to manifest a brighter future – together.
Grants of $10,000 to $25,000 with $100,000 in funds total.
GRANT APPLICATION FOR 2022 IS CLOSED. THIS GRANT APPLICATION WILL OPEN ON MARCH 10, 2023!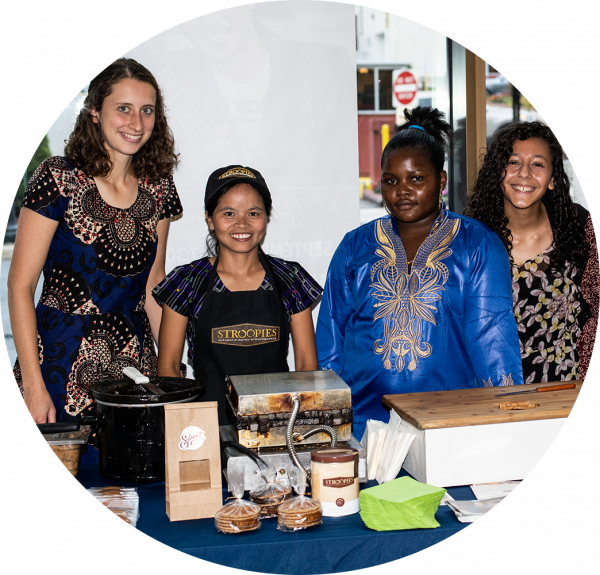 Project Examples
The aim of this grant opportunity is to allow for social innovation and idea generation from the within the community. The Community Foundation is deliberately placing minimal parameters around what these programs might entail. We are issuing a challenge for the best visionary projects seeking to bring historically or recently divided groups into harmony with one another. The following are examples are hypothetical.
• A synagogue, church, and mosque share meeting space and set up regular meetings to listen to one another and work together on a shared project.
• A CBO serving rural Lancaster County residents who are mostly white and an organization serving mostly BIPOC residents create opportunities to share volunteers for assisting with programs and events at both sites.
• An interfaith association of clergy creates an interactive LGBTQ+ listening/Q&A opportunity for congregations wrestling with how LGBTQ+ concerns fit into their theology and practice of faith.
Evaluation Criteria
• Need – The application clearly identifies two or more groups of people who have been in conflict or disconnected from each other.
• Potential of Proposed Solution – The proposed solution has real potential to bring these groups of people closer together in the short-term and/or the long-term.
• Implementation Plan – The organization(s) have created a robust, logical plan that clearly identifies realistic timelines, budget, and goals.
• Learning – The applicant has a clear plan to collect information about what is working and what is not, and to share their learning with the broader community.
• Innovation – Is the applicant using a strategy that is new for Lancaster County within the past year?
• Equity & Inclusion – Does this application advance the health and well-being of communities that have historically been marginalized? (e.g. BIPOC population, LGBTQ+, people with disabilities, etc.)