2021-2022 Scholarship Awards
Each year, the Community Foundation is honored to award scholarships to help advance Lancaster County students education thanks to our generous donors with a passion for supporting future generations. This year we're proud to award 33 scholarships to extraordinary students pursuing careers in various fields such as mechanical engineering, international relations, biochemistry, journalism, nursing, and much more!
Thanks to you and countless other student's hard work, we know that our community's future is looking extraordinary, and we can't wait to see what you all accomplish in your next chapter!
Congratulations to the 2021-2022 scholarship recipients:
Albert S. Rosman Scholarship
Available to Conestoga Valley High School students regardless of the field of study. $1,400 for one year.

Grace Hershey
Attending Messiah University and majoring in Nursing.
Charles W. Shoff Scholarship
Available to Lancaster County students planning a course of study in Geology, Medicine, Agriculture, Mechanical Engineering, or Mechanical Drafting. $1,000 per year, renewable.
Andrew Bliss
Attending Cornell University and majoring in biomedical engineering/ pre-med.

Micah Weaver
Attending Penn State University and is majoring in mechanical engineering.

Abigail Zorilla
Attending Gordon College and is majoring in environmental science.
Frank A. Wint Memorial Fund Scholarship
Available for a Lampeter -Strasburg High School student. Two Awards of $500 for one year.
Elijah Carr
Elizabeth Deardorff
George W. McKibbin Scholarship
Available to African American students from Lancaster County. $2,000 per year, renewable.
Roba Adam
Attending Millersville University of Pennsylvania and majoring in biology.

Eden Addisu
Attending Brown University and majoring in Public Health.

Beatrice Gauthier
My name is Beatrice Gauthier and I am a sophomore at Pennsylvania State University-Main Campus. Currently, my intended majors are marketing, telecommunications, and possibly french. I am a part of the Smeal College of Business and I am a student mentor to incoming freshmen. I'm involved in our campus tour guide program and homecoming.
Tianna Lawrence
Attending Drexel University and majoring in Nursing.
Mesagna Yilma
Attending Temple University and majoring in Kinesiology.
James R. Buescher Scholarship
Available to Lancaster County students planning a course of study in Creative Writing, Journalism, Marketing, Mass Communication, and Media Studies. $500 for one year.
Corinne DeSyon
Attending Georgetown University and majoring in Creative Writing, Language and Literature (in English, French, and Spanish), History, Critical Social Theory, and Women's Studies.
John H. Gehr Fund Scholarship
Available for a Garden Spot High School student. $250 for one year.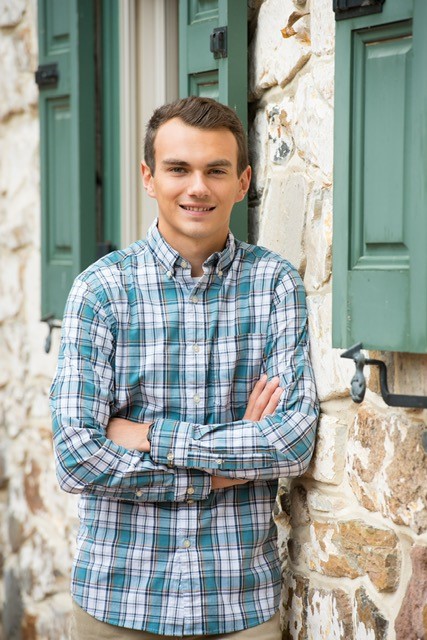 Dakota Cox
Dakota Cox is a 2021 graduate from Garden Spot High School. While attending high school he was active in cross country, track, boy's lacrosse, marching band, concert band, and chorus. His favorite class was physics because it involved math and real-world applications to everyday scenarios. Dakota will be attending Thaddeus Stevens College of Technology for Electro-Mechanical Technologies in the fall 2021.
Joseph and Claudine Hess Scholarship
Available to all Lancaster County students regardless of the field of study. $2,000 per year, renewable.

Elisabeth Blain
Attending Eastern University and is majoring in environmental science.
Brandon Bixler
Brandon Bixler of East Earl, PA is a sophomore student at Penn State University Schreyer Honors College. He is majoring in Agricultural and Extension Education with a minor in International Agriculture. At Penn State, Brandon is involved in the College of Agricultural Sciences Student Council and is a member of the Presidential Leadership Academy. Brandon hopes to become a high school agriculture science teacher in Lancaster County following graduation.
Nicholas Fafel
Attending University of Delaware and majoring in computer science.

Ethan Horning
"Ethan is an audio and music production major at Lebanon Valley College with guitar as his main instrument. He is going into this senior year in 2021. He also leads worship services every Wednesday night and works as an RA on campus. On weekends, he works with Portable Soundz in Lancaster as a DJ assistant."

Alexis Jackson
Attending the Pennsylvania College of Health Sciences and majoring in nursing.
"I am eternally grateful for the continued support the Lancaster County Community Foundation has given me. Their generosity has assisted me with the financial strain of pursuing a college education. Thank you for helping me achieve my dreams."

Madeleine Janz
Madeleine Janz is a third-year Journalism + Design student at The New School with freelance bylines at i-D Magazine and Document Journal. The Joseph and Claudine Hess Scholarship makes her education and internships possible.
Hannah Kline
My name is Hannah Kline, and I will be attending Penn State University's Schreyer Honors College at the University Park campus to pursue a degree in biochemistry and molecular biology. In addition to my studies, I hope to further pursue my interests in rock climbing, cooking, and film. I also look forward to joining a research lab while on campus. Ultimately, I hope to earn my Ph.D. in biophysics and end up in medical research.

Ethan Lown
My name is Ethan Lown and I am entering my second year at Waynesburg University. While at Waynesburg, I am a player on the men's tennis team, vice president of the student senate, student ambassador, and student mentor. As a political science major, I hope to attend law school and pursue a career in criminal law.

Sierra Miller
Attending Shippensburg University of Pennsylvania and majoring in Accounting and Finance. She hopes to become a CPA in the future.

Clark Mummau
Attending Grove City College and majoring in Biblical & Religious Studies and Christian Ministries.

Joel Pletcher
Attending Asbury University and majoring in digital media.

Safitaj Sindhar
Safitaj Sindhar is a 2019 graduate of Ephrata High School and is currently a student at Penn State University. She is majoring in Biology, with a minor in psychology, and has goals of attending medical school.
Lucy Shettel
Hello, my name is Lucy Shettel and I am currently attending Temple University. I am a biology major on the pre-veterinary track and am completing certificates in Computer Programming and Genomic Medicine. I aspire to work with animals and give back to others through my future career. At Temple I am busy attending club meetings, going to chapter for the sorority that I am a part of, and am currently studying abroad in Rome, Italy. I am excited to see classes and other college events return to normal as the world recovers from this global pandemic. Temple has provided me with a great opportunity to explore new areas of life and broaden my horizons by encountering new experiences in PA and beyond.
Lydia Sigman
Attending George Mason and majoring in government and international politics.

Alison Smith
Attending University of Pittsburg and majoring in business, marketing, supply chain management.

Camille Zapata
Attending St. Joseph's University and is majoring in international relations.
Martin Zavadan
Attending Millersville University of Pennsylvania and majoring in business administration.
Joy Zavalick
Attending Grove City College and majoring in political science.
Nathan Schaeffer Scholarship Fund
Available for a Millersville University student. $700 for one year.
Megan Kurtz
Stephen Jonathan Swartz Scholarship Fund
One scholarship will be awarded to Susquehanna Waldorf School, for a student enrolling for their 2nd year through 8th grade year. $650 for one year.
This scholarship was awarded to an extraordinary student from Susquehanna Waldorf School.