$40,000+ investment from Lancaster Cares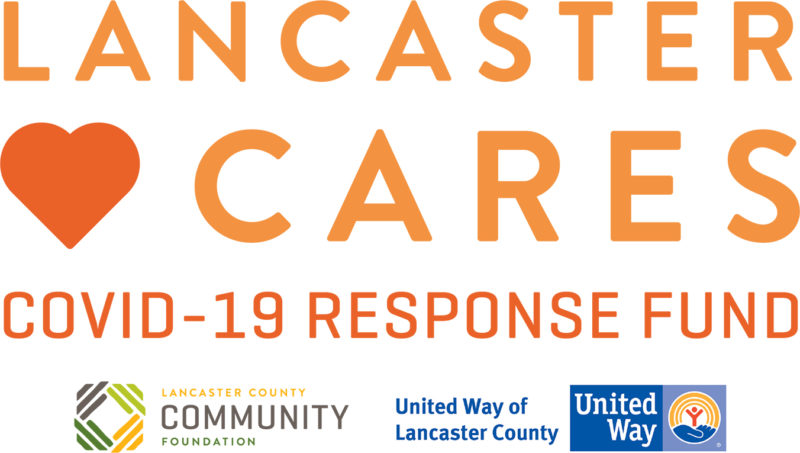 We are proud to announce another $40,500 in investment to six local community benefit organizations to meet the ongoing COVID-19 crisis in Lancaster County.
Thanks to your support to the Lancaster Cares COVID-19 Response Fund, we have together raised more than $980,000 for Lancaster residents. Because of the countless individuals helping to lift up the Lancaster Cares fund, the Community Foundation and the United Way of Lancaster PA are able to provide aid to vital local programs meeting the need of our friends, neighbors, and families, including populations that are disproportionately affected by this crisis.
In the past week, you helped support a program that works with individuals to prevent evictions across the County, a program that provides food boxes to its elderly and in need congregants, as well as, efforts to support mental health through financial relevance, and equipment to help workers safely return to shared spaces.
We are proud to be able to help support these organizations thanks to the extraordinary contributions across Lancaster county, our partnership with the United Way, and our community endowment: people-powered resources to help build our shared future.
Learn about this week's grantees
We received a large amount of applications for funding, and while we weren't able to fund all the ideas, we are proud to be able to make small grants to as many organizations as possible, seeding many new and creative ideas to address the needs of our community.
Click below to view each organization's proposed Lancaster Cares program and grant amount.
Food Access
Patients R Waiting, Inc: "Feeding the Community"
Grant Amount: $7,000
Faith Tabernacle Transformation & Development Corporation has stepped up to meet the needs of the South East Lancaster community by increasing distribution of food boxes to its elderly and in need congregants. Through this grant FTTD will further increase food distribution within the South East Lancaster community and bolster it's hot meal program, serving 3 hot healthy meals weekly through the summer.
Housing
HDC MidAtlantic: "Eviction Prevention Program (EPP)"
Grant amount: $10,000
Due to Covid-19, 30-40% of HDC's family communities will not be able to pay rent. The implications of housing stability for our residents could be catastrophic. In response, HDC will link households to our Resident Services staff for supports that reflect best practices for eviction prevention, such as creating a payment plan, counseling on monthly budgeting, and helping navigate social services or stimulus benefits. This grant will assure these services remain available in Lancaster County.
Emerging Needs
Mental Health America of Lancaster: "Basic Needs Resource Collection for Individuals with Mental Health Diagnoses"
Grant amount: $5,000
Those with mental health challenges struggle to afford food, medication, basic hygiene supplies, and transportation. Prepaid cell phones will be temporarily distributed to allow clients to connect to staff. We will distribute hygiene kits to those in the community and to those released from incarceration. With prescription medication often making the difference between life in the community and life in a facility for those with severe mental illness, we will help pay for life-saving medication.
Arch Street Center: "Back to Work Safety and Food Safety"
Grant amount: $2,500
Due to COVID, Arch Street Center was forced to close our doors and suspend our normal services. We have continued to provide a daily take-away meal to people in our community experiencing food insecurity. As we look toward reopening, we will face many challenges in keeping our staff, volunteers and members safe. We are working to establish safety measures and are asking for grant dollars to purchase structural safety equipment, masks, and supplies to ensure and maintain a healthy environment.
Lancaster Osteopathic Health Foundation: "Mental Health Copay Assistance Fund"
Grant amount: $10,000
We offer Mental Health Copay Assistance to youth, children, and parents of dependent children (ages 0-25) who live in Lancaster County and have financial need. This reduces the copay to just $10 per visit with a licensed behavioral healthcare provider, including telehealth visits. Due to the COVID-10 pandemic, we've received requests to support all adults. We will use these funds to support adults without children so that everyone with financial need qualifies.
Meeting these needs are possible because of you
Thanks to your extraordinary generosity, Lancaster Cares has raised more than $980,000 to support our neighbors, friends, and families across Lancaster County. These are new and unpredictable challenges, and the solutions must change with them. But fortunately, what's most important for creating these solutions has not changed: our extraordinary generosity is shining through these dark times. Our roll-up-your-sleeves, get-the-job-done attitude will pull us through, as it has before. Our generosity is lifting our fellow Lancastrians up; keeping food on their tables, a roof over their heads, and maybe most importantly, offering the hope to see us all through this crisis.
Thank you for supporting Lancaster Cares, and if you haven't yet, give now at LancoCares.org!
Thank you to community champions from both the private and public sector who are tirelessly committed to Lancaster County:
Rodgers & Associates

PPL Corporation

Armstrong Flooring
Community Fund

Truist Cares Fund

7 Foundation Fund

Anne and Robert Bowman
Family Fund

High Foundation

Altria Group, Inc.

LCBC Lancaster City

The Calvin & Janet High
Family Foundation

Mars Wrigley Foundation

North Group Consultants

Arconic Foundation