$25,000+ Investment from Lancaster Cares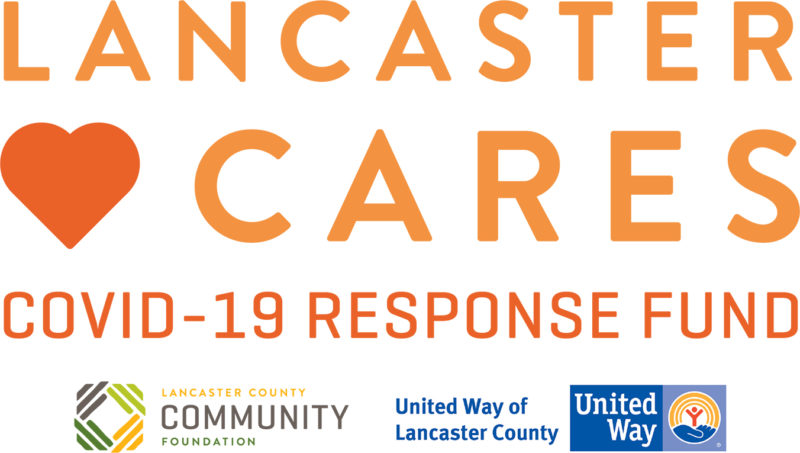 We are proud to announce another $25,200 investment in five local community benefit organizations to meet the ongoing COVID-19 crisis in Lancaster County.
Thanks to your support to the Lancaster Cares COVID-19 Response Fund, we have together raised nearly $1 million for Lancaster residents. Because of the countless individuals helping to lift up the Lancaster Cares fund, the Community Foundation and the United Way of Lancaster PA are able to provide aid to vital local programs meeting the need of our friends, neighbors, and families, including populations of color which are disproportionately affected by this crisis.
In the past week, you helped support a program that provides medical and counseling services to adults and teens, an initiative ensuring uniforms, backpacks, and school supplies can be safely distributed to schoolchildren and a program that provides clients with meals and assists them in looking for additional financial and food resources.
We are proud to be able to help support these organizations thanks to the extraordinary contributions across Lancaster county, our partnership with the United Way, and our community endowment: people-powered resources to help build our shared future.
Learn about this week's grantees
We received a large amount of applications for funding, and while we weren't able to fund all the ideas, we are proud to be able to make small grants to as many organizations as possible, seeding many new and creative ideas to address the needs of our community.
Click below to view each organization's proposed Lancaster Cares program and grant amount.
Food Access
Meals on Wheels, Inc.: "COVID Meal on Wheels Client Sustainability Program"
Grant amount: $8,000
To provide funding to allow 16 clients who do not have the ability to pay for daily meals to continue receiving their meals (2x day) without being cut off due to non-payment. Also to provide navigational services to assist these clients in finding additional financial and food resources.
Emerging Needs
Lancaster Recreation Commission: "Back to School Giveaway"
Grant amount: $10,000
Each year, Lancaster Rec works closely with Rep. Mike Sturla's office to give away thousands of shoes, uniforms, backpacks and school supplies to children in need within the School District of Lancaster. Entering it's 9th year, Lancaster Rec and several community agencies are working together to continue this important tradition in the age of COVID. We are working hard to plan a safe and accessible way for families to get what they need to start a challenging and uncertain year.
Pregnancy Resources at Cornerstone: "Healthy Choices"
Designed to provide free medical and counseling services for women, men and teens (aged 13 and above), the Healthy Choices program provides: medical, educational and counseling resources, free pregnancy testing, limited obstetrical ultrasound scans, prenatal health and birthing classes, sexual integrity and parenting training, which includes an incentive program through which participants can earn needed resources for their infant.
Meeting these needs are possible because of you
Thanks to your extraordinary generosity, Lancaster Cares has raised more than $980,000 to support our neighbors, friends, and families across Lancaster County. These are new and unpredictable challenges, and the solutions must change with them. But fortunately, what's most important for creating these solutions has not changed: our extraordinary generosity is shining through these dark times. Our roll-up-your-sleeves, get-the-job-done attitude will pull us through, as it has before. Our generosity is lifting our fellow Lancastrians up; keeping food on their tables, a roof over their heads, and maybe most importantly, offering the hope to see us all through this crisis.
Thank you for supporting Lancaster Cares, and if you haven't yet, give now at LancoCares.org!
Thank you to community champions from both the private and public sector who are tirelessly committed to Lancaster County:
Rodgers & Associates

PPL Corporation

Armstrong Flooring
Community Fund

Truist Cares Fund

7 Foundation Fund

Anne and Robert Bowman
Family Fund

High Foundation

Altria Group, Inc.

LCBC Lancaster City

The Calvin & Janet High
Family Foundation

Mars Wrigley Foundation

North Group Consultants

Arconic Foundation