$22,000 Investment from Lancaster Cares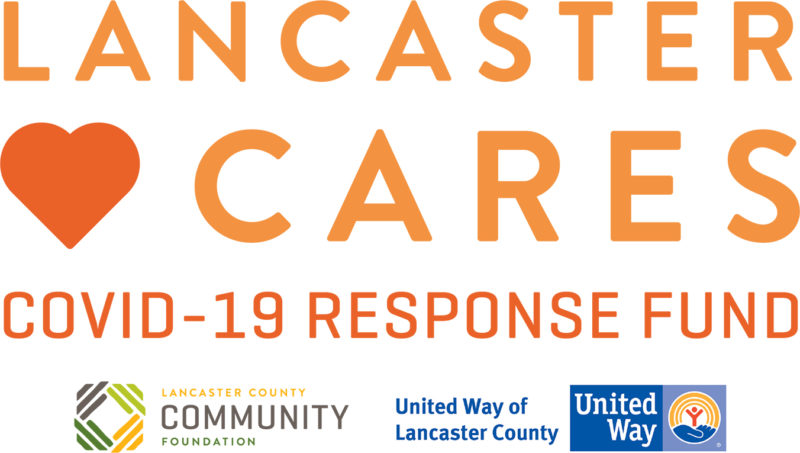 We are proud to announce another $22,000 investment in six local community benefit organizations to meet the ongoing COVID-19 crisis in Lancaster County.
Thanks to your support to the Lancaster Cares COVID-19 Response Fund, we have together raised $1 million for Lancaster residents. Because of the countless individuals helping to lift up the Lancaster Cares fund, the Community Foundation and the United Way of Lancaster PA are able to provide aid to vital local programs meeting the need of our friends, neighbors, and families, including populations of color which are disproportionately affected by this crisis.
In the past week, you helped support the reopening of the Landis Adult Day Services Center, two programs that assist school-aged children with online learning, an initiative virtually connecting individuals with family members, and programs providing resources and guidance to at-risk and in-need adults through these uncertain times.
We are proud to be able to help support these organizations thanks to the extraordinary contributions across Lancaster county, our partnership with the United Way, and our community endowment: people-powered resources to help build our shared future.
We received a large amount of applications for funding, and while we weren't able to fund all the ideas, we are proud to be able to make small grants to as many organizations as possible, seeding many new and creative ideas to address the needs of our community.
Click below to view each organization's proposed Lancaster Cares program and grant amount.
Emerging Needs
Compass Mark: "Access to Addiction Prevention Resources"
Grant amount: $1,500
The COVID-19 pandemic presents significant challenges for people with substance use disorders, and for their friends and family members trying to navigate support programs in the community. Compass Mark is requesting a grant to implement an online chat service for individuals seeking information about addiction treatment and recovery programs. Funding will also support upgrades to telephone and website resources to increase community access to prevention services during the pandemic.
Elizabethtown Community Housing & Outreach Services: "ECHOS COVD-19 Emergency Response"
ECHOS offers a continuum of care to truly meet all levels of client needs. As our trained staff engage with clients, frequently in the form of intensive case management, clients are encouraged and assisted in obtaining the natural supports and basic necessities to be successful. Through engagement, staff are equipped to provide services like budgeting, goal-planning, counseling, and resource referrals to fully assist clients in persevering through crisis.
Landis HCBS: "Adult Day Services Center Re-opening"
Grant amount: $2,500
Landis HCBS is made up of a number of entities serving the community to support older adults as they age safely in their homes. One entity, Landis Adult Day Services, was required to close March 16, 2020, due to the COVID 19 Pandemic. The Center provides exercise, engaging activities, nutritious lunch, and snacks in addition to supervision by a nurse to persons that attend. We plan to open again in August to serve clients under the CDC and DOH safe practices guidelines.
Landis HCBS: "Z-Tutors: Intergenerational Tutoring in the Time of COVID-19 "
Grant amount: $7,100
Z-Tutors is an intergenerational, tutoring program that will virtually connect a student with an older adult volunteer to help parents, support education and decrease isolation. Piloting as a program of Age-Friendly Lancaster City, it will begin with volunteers from Lancaster Downtowners and students from the School District of Lancaster (SDOL) being served by the Lancaster Recreation Commission, then transition best practices to serve families throughout Lancaster who are learning at home.
Milagro House: "The Learning for Success Classroom: Providing Remote Learning Support for School-Age Children"
Grant amount: $5,900
The Learning for Success Classroom will provide school-age children living with their mothers at Milagro House with a supportive, structured learning environment to navigate the remote learning requirements instituted by the School District of Lancaster for the 2020-2021 school year. Adding this classroom ensures their mothers – enrolled in our GED and post-secondary degree programs – may continue their own educational journeys without interruption.
Meeting these needs are possible because of you
Thanks to your extraordinary generosity, Lancaster Cares has raised more than $1,000,000 to support our neighbors, friends, and families across Lancaster County. These are new and unpredictable challenges, and the solutions must change with them. But fortunately, what's most important for creating these solutions has not changed: our extraordinary generosity is shining through these dark times. Our roll-up-your-sleeves, get-the-job-done attitude will pull us through, as it has before. Our generosity is lifting our fellow Lancastrians up; keeping food on their tables, a roof over their heads, and maybe most importantly, offering the hope to see us all through this crisis.
Thank you for supporting Lancaster Cares, and if you haven't yet, give now at LancoCares.org!
Thank you to community champions from both the private and public sector who are tirelessly committed to Lancaster County:
Rodgers & Associates

PPL Corporation

Armstrong Flooring
Community Fund

Truist Cares Fund

7 Foundation Fund

Anne and Robert Bowman
Family Fund

High Foundation

Altria Group, Inc.

LCBC Lancaster City

The Calvin & Janet High
Family Foundation

Mars Wrigley Foundation

North Group Consultants

Arconic Foundation