$10,000+ investment from Lancaster Cares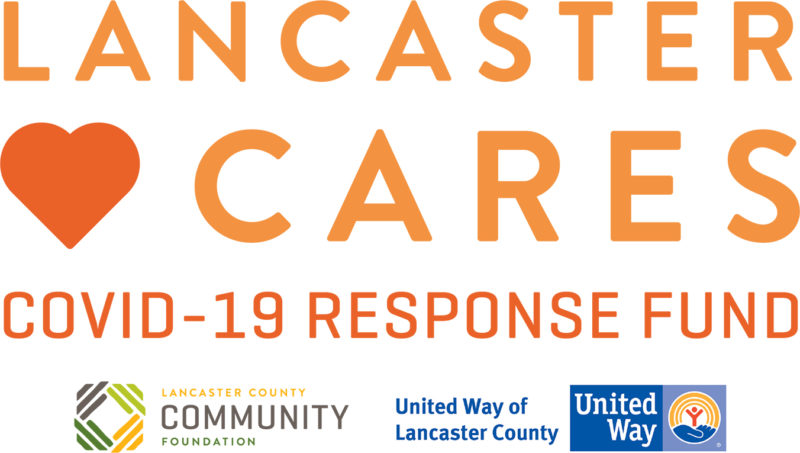 We are proud to announce another $10,750 investment in five local community benefit organizations to meet the ongoing COVID-19 crisis in Lancaster County.
Thanks to your support to the Lancaster Cares COVID-19 Response Fund, we have together raised nearly $1 million for Lancaster residents. Because of the countless individuals helping to lift up the Lancaster Cares fund, the Community Foundation and the United Way of Lancaster PA are able to provide aid to vital local programs meeting the need of our friends, neighbors, and families, including populations of color which are disproportionately affected by this crisis.
In the past few weeks, you helped support a program geared towards keeping families connected to loved ones and medical professions during Covid-19, two programs working to provide shelter and necessities for refugees and sex-trafficking survivors, as well as, a program that supports community members transitioning into stable housing.
We are proud to be able to help support these organizations thanks to the extraordinary contributions across Lancaster county, our partnership with the United Way, and our community endowment: people-powered resources to help build our shared future.
Learn about this week's grantees
We received a large amount of applications for funding, and while we weren't able to fund all the ideas, we are proud to be able to make small grants to as many organizations as possible, seeding many new and creative ideas to address the needs of our community.
Click below to view each organization's proposed Lancaster Cares program and grant amount.
Housing
Clare House Inc: "Breaking the Barriers"
Grant amount: $3,000
Clare House is committed to the lifelong success of our clients. Our commitment begins upon entry into the program and continues after they leave through aftercare. Funding will allow us to support our clients transitioning into permanent housing and provide additional space at the shelter.
Emerging Needs
Bethany Christian Services of Pa: "Refugee Community-Hygiene Education and Supplies"
Grant amount: $1,000
With an average of 17 years spent in a refugee camp, personal hygiene and household cleanliness can be a foreign concept to newcomers in our community. In order to stop the spread of COVID-19, Bethany in partnership with Grape Leaf Empowerment Center will provide imperative hygiene education and products, including masks, to 45 refugees in Lancaster over the next three months.
North Star Initiative: "The Harbor"
Grant amount: $4,000
The Harbor restoration program provides 24/7/365 supervised shelter and resources for female sex-trafficking survivors. Our operating costs are significant, and COVID-19 caused a drop in financial and food donations and cancellation of fundraising events. A grant from the Lancaster Cares COVID-19 Response Fund will help us continue to provide survivors with safe housing, food, clothing, and basic necessities, along with trauma-informed care and therapy needed to address complex trauma.
Grant amount: $2,750
As COVID-19 evolves, social distancing is more important than ever, especially for seniors. But social distancing doesn't have to mean social isolation. With the help of 2 navigators, the residents will be able to stay connected with family, doctors, and mental health professionals during this time. When you can't see your loved one in person, a video call can bring you closer together. These long-distance activities can help them spend quality time together as well as get telehealth screenings.
Meeting these needs are possible because of you
Thanks to your extraordinary generosity, Lancaster Cares has raised more than $980,000 to support our neighbors, friends, and families across Lancaster County. These are new and unpredictable challenges, and the solutions must change with them. But fortunately, what's most important for creating these solutions has not changed: our extraordinary generosity is shining through these dark times. Our roll-up-your-sleeves, get-the-job-done attitude will pull us through, as it has before. Our generosity is lifting our fellow Lancastrians up; keeping food on their tables, a roof over their heads, and maybe most importantly, offering the hope to see us all through this crisis.
Thank you for supporting Lancaster Cares, and if you haven't yet, give now at LancoCares.org!
Thank you to community champions from both the private and public sector who are tirelessly committed to Lancaster County:
Rodgers & Associates

PPL Corporation

Armstrong Flooring
Community Fund

Truist Cares Fund

7 Foundation Fund

Anne and Robert Bowman
Family Fund

High Foundation

Altria Group, Inc.

LCBC Lancaster City

The Calvin & Janet High
Family Foundation

Mars Wrigley Foundation

North Group Consultants

Arconic Foundation