LEAP Session: First Steps in Building a Sustainable Career
Join Samuel Soliman and David Castro Jr. as they discuss how to get started on your new path and how to sustain yourself long-term in your chosen career.
Friday, April 14th, 2023
12:00pm-1:30pm
via Zoom
We will be offering English & Spanish captioning and Spanish & ASL interpretation
About this event
First Steps in Building a Sustainable Career
Join us for an inspiring presentation led by freelance photographer-filmmaker-producer, Samuel Soliman, and Business Data Analyst David Castro Jr.
It can be difficult to jump-start your career, whether you have received education and training or are jumping right into a new workforce. In this workshop, we will be discussing how to get started on your new path and how to sustain yourself long-term in your chosen career. It starts with how to advocate for yourself when you are starting your career, regardless of the field you're in or how much experience you have. This includes career exploration, resume building, and how to adapt to change. Once you start your new career, you also must learn how to sustain yourself through reflecting on your values and creating professional and personal boundaries.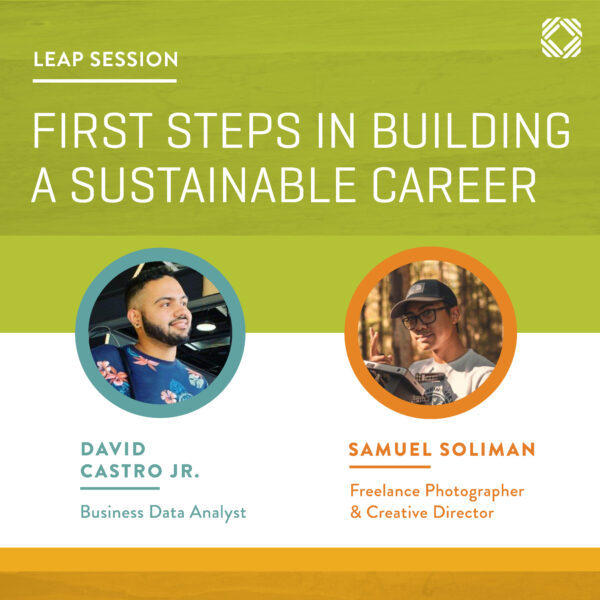 Samuel Soliman is currently a freelance photographer, filmmaker, producer, co-founder and Creative Director of The Hood Hippie Love Yourself, a clothing brand focused on mental wellness. He has worked in the Lancaster community and beyond for many years, honing his skills and "curiosity photography". Sam continues to do his work with aspirations to provide accessible opportunities to the arts for youth to discover their own passions and to create an open dialogue on mental health through art. His work focuses on building stronger online media presence for businesses, organizations, and individuals, generating creative visions and effective marketing campaigns. Sam's art has been featured in a number of locations, including photographs at local gallery shows, city-wide video campaigns, and even as big as digital billboards in Times Square.
David Castro Jr. is 25 years old and currently resides in Millersville PA. They are originally from Newark, NJ and lived there until they moved to Lancaster, PA to attend Franklin & Marshall College in 2016. David always had a love for mathematics and engineering in high school, which led them to major in Mathematics. Their love for Japanese culture led them to study Japanese all 4 years in college. David came out as gay in college, and having a passion in mathematics and wanting to see more people like themselves in the classroom, they pursued Education as a career in 2019. David was a mathematics teacher for a private high school in Lancaster PA for 3 years. Being an educator was something they enjoyed because they wanted to break the common fears of mathematics, but also show representation of being queer and Hispanic in higher education. Recently, this year David changed their career path to become a business data analyst.