$34,000+ investment from Lancaster Cares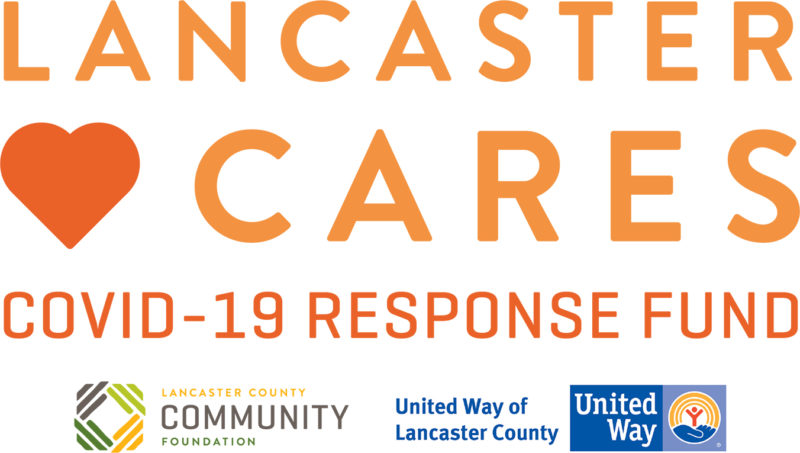 We are proud to announce another $34,025 in investment to 5 local community benefit organizations to meet the ongoing COVID-19 crisis in Lancaster County.
Thanks to your support to the Lancaster Cares COVID-19 Response Fund, we have together raised more than $950,000 for Lancaster residents. Because of the countless individuals helping to lift up the Lancaster Cares fund, the Community Foundation and the United Way of Lancaster PA are able to provide aid to vital local programs meeting the need of your friends, neighbors, and family. In the past week, you helped support programs that assist with providing emergency assistance to people experiencing job loss, learning at home packages for families, healthy take-away breakfast for members of the community and more.
These funds will continue to be distributed based on the issue areas of Food Access, Housing, and Emerging Needs. Visit our News section for weekly updates on Lancaster Cares Fund community support.
Learn about this week's grantees
We received a large amount of applications for funding, and while we weren't able to fund all the ideas, we are proud to be able to make small grants to as many organizations as possible, seeding many new and creative ideas to address the needs of our community.
Click below to view each organization's proposed Lancaster Cares program and grant amount.
Food Access
Anchorage Breakfast: "Anchorage Breakfast To Go"
Grant Amount: $5,000
Since the pandemic and the order for social distancing, instead of a seated indoor buffet breakfast, Anchorage Breakfast To Go guests have been provided with a healthy take-away breakfast including breakfast sandwiches or casserole, juice, cereal, milk, fruit, and snacks, packaged in an environmentally friendly manner to reduce waste. Meals are distributed by the executive director and a trained and paid staff member in the vestibule of First United Methodist Church, one guest at a time.
Housing
Conestoga Valley Christian Community Services: "Back on Track Program "
Grant amount: $5,000
The CVCCS Back on Track Program was established in 2018 to help the working poor to avoid homelessness due to sudden job loss, significant rent increase, health issues, and other emergencies. CVCCS will assist with the payment of a one-time bill such as security deposit, car repair bill, emergency house repairs, an unexpected high utility bill and other needs as necessary to help them get back on track and avoid a downward spiral of debt.
Emerging Needs
The Mix at Arbor Place: "Neighbors Helping Neighbors"
Grant amount: $6,525
We will create " Family Care Packages" they will include supplies such as age appropriate books, student & family bibles, art materials, board games, and other supplies to help equip them for learning at home & bring the family together through fun activities.We will also be including a $25 gift card for groceries, basic household supplies, toiletries and personal hygiene items. Provide weekly Family Therapy Sessions via Zoom to support the families Mental Health.
Sanitation Stations & Masks
Youth Advocate Programs: "Lancaster YAP Cares "
Grant amount: $2,500
Funds will be used to meet essential needs of vulnerable families and to reengage program youth with complex needs.
YAP will prepare weekly essential "packs" of food for families, considering specific needs and family size; provide financial assistance for rent/mortgages, utilities and cell phones/internet and supplemental income to YAPWORX youth to reengage and encourage completion of modules by providing a stipend for completion over the 90-day period.
Meeting these needs are possible because of you
Thanks to your extraordinary generosity, Lancaster Cares has raised nearly $900,000 to support our neighbors, friends, and families across Lancaster County. These are new and unpredictable challenges, and the solutions must change with them. But fortunately, what's most important for creating these solutions has not changed: our extraordinary generosity is shining through these dark times. Our roll-up-your-sleeves, get-the-job-done attitude will pull us through, as it has before. Our generosity is lifting our fellow Lancastrians up; keeping food on their tables, a roof over their heads, and maybe most importantly, offering the hope to see us all through this crisis.
Thank you for supporting Lancaster Cares, and if you haven't yet, give now at LancoCares.org!
Thank you to community champions from both the private and public sector who are tirelessly committed to Lancaster County:
Rodgers & Associates

PPL Corporation

Armstrong Flooring
Community Fund

Truist Cares Fund

7 Foundation Fund

Anne and Robert Bowman
Family Fund

High Foundation

Altria Group, Inc.

LCBC Lancaster City

The Calvin & Janet High
Family Foundation

Mars Wrigley Foundation

North Group Consultants

Arconic Foundation