$23,000+ investment from Lancaster Cares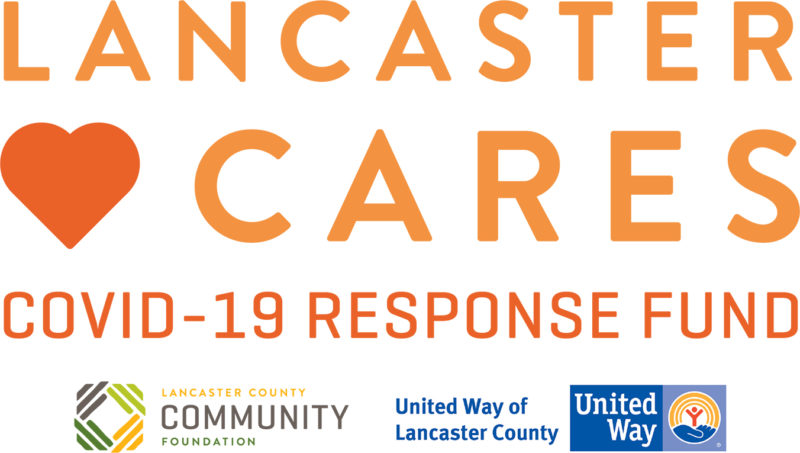 We are proud to announce another $23,400 in investment to 5 local community benefit organizations to meet the ongoing COVID-19 crisis in Lancaster County.
Thanks to your support to the Lancaster Cares COVID-19 Response Fund, we have together raised more than $950,000 for Lancaster residents. Because of the countless individuals helping to lift up the Lancaster Cares fund, the Community Foundation and the United Way of Lancaster PA are able to provide aid to vital local programs meeting the need of your friends, neighbors, and family. In the past week, you helped support programs that assist with providing technology for students, music therapy for children with disabilities, breakfast for members of the community and more.
These funds will continue to be distributed based on the issue areas of Food Access, Housing, and Emerging Needs. Visit our News section for weekly updates on Lancaster Cares Fund community support.
Learn about this week's grantees
We received a large amount of applications for funding, and while we weren't able to fund all the ideas, we are proud to be able to make small grants to as many organizations as possible, seeding many new and creative ideas to address the needs of our community.
Click below to view each organization's proposed Lancaster Cares program and grant amount.
Food Access
Anchorage Breakfast: "Anchorage Breakfast To Go"
Grant Amount: $1,700
Since the pandemic and the order for social distancing, instead of a seated indoor buffet breakfast, Anchorage Breakfast To Go guests have been provided with a healthy take-away breakfast including breakfast sandwiches or casserole, juice, cereal, milk, fruit, and snacks, packaged in an environmentally friendly manner to reduce waste. Meals are distributed by the executive director and a trained and paid staff member in the vestibule of First United Methodist Church, one guest at a time.
Housing
YWCA Lancaster: "The YW Makes the Difference "
Grant amount: $10,000
We are dedicated to making a difference for our clients. We will assist our residents and clients with basic needs: food, diapers, wipes, formula, etc. We will provide them with cleaning supplies to help keep their living areas safe. We will utilize our maintenance staff to repair and maintain rooms for additional clients as well as safe usage of our gym. For our residents in emergency shelter, we will assist them in securing permanent housing with security deposit and first months rent.
Bridge of Hope Inc.: "Help families facing homelessness impacted by COVID-19 in Lancaster"
Grant amount: $300
Bridge of Hope Lancaster is continuing to accept families facing homelessness into the program during this crisis. Housing is always the most immediate and critical need for the families we serve. With current stay-at-home orders, this becomes an even more crucial first step. A grant of $3000 will allow us to provide rental and move-in assistance for a family who is ready to move out of a shelter, and is currently employed.
Emerging Needs
Water Street Ministries: "Serving Amid COVID-19"
Grant amount: $10,000
This project is adapting our operations to follow the guidance from the CDC, our local health care partners, and our government officials.
To better serve the guests at the mission we have increased expenses in cleaning and significant adjustment in food services. To better serve the students at home we have purchased Chromebooks and IT items to support the students and virtual work.
Aaron's Acres: "Supportive programs for families raising children with disabilities during the pandemic "
Grant amount: $1,400
In response to challenges parents are facing in trying to support their children with disabilities, Aaron's Acres is providing weekly videos, created by various performers and therapists who have been part of our camp program. Parents report that the videos are the best part of their day. Music therapy and books being read by Jesse (holding a boa) from Forgotten Friends provide entertainment and a sense of comfort for these children who are anxious and confused about the present situation.
Meeting these needs are possible because of you
Thanks to your extraordinary generosity, Lancaster Cares has raised nearly $900,000 to support our neighbors, friends, and families across Lancaster County. These are new and unpredictable challenges, and the solutions must change with them. But fortunately, what's most important for creating these solutions has not changed: our extraordinary generosity is shining through these dark times. Our roll-up-your-sleeves, get-the-job-done attitude will pull us through, as it has before. Our generosity is lifting our fellow Lancastrians up; keeping food on their tables, a roof over their heads, and maybe most importantly, offering the hope to see us all through this crisis.
Thank you for supporting Lancaster Cares, and if you haven't yet, give now at LancoCares.org!
Thank you to community champions from both the private and public sector who are tirelessly committed to Lancaster County:
Rodgers & Associates

PPL Corporation

Armstrong Flooring
Community Fund

Truist Cares Fund

7 Foundation Fund

Anne and Robert Bowman
Family Fund

High Foundation

Altria Group, Inc.

LCBC Lancaster City

The Calvin & Janet High
Family Foundation

Mars Wrigley Foundation

North Group Consultants

Arconic Foundation