$15,000 investment from Lancaster Cares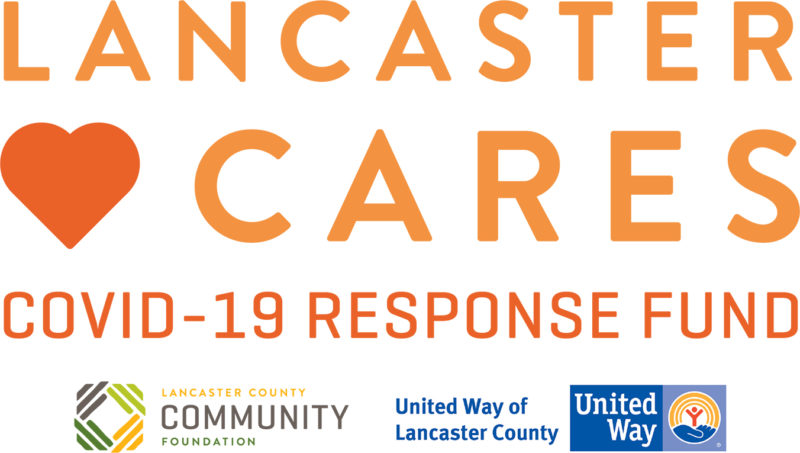 We are proud to announce another $15,000 in investment to four local community benefit organizations to meet the ongoing COVID-19 crisis in Lancaster County.
Thanks to your support to the Lancaster Cares COVID-19 Response Fund, we have together raised more than $980,000 for Lancaster residents. Because of the countless individuals helping to lift up the Lancaster Cares fund, the Community Foundation and the United Way of Lancaster PA are able to provide aid to vital local programs meeting the need of your friends, neighbors, and family. In the past week, you helped support a local food pantry and public library maintain operations, an initiative to prevent hunger and food insecurity, and a program engaging youths through physical activity.
These funds will continue to be distributed based on the issue areas of Food Access, Housing, and Emerging Needs. Visit our News section for weekly updates on Lancaster Cares Fund community support.
Learn about this week's grantees
We received a large amount of applications for funding, and while we weren't able to fund all the ideas, we are proud to be able to make small grants to as many organizations as possible, seeding many new and creative ideas to address the needs of our community.
Click below to view each organization's proposed Lancaster Cares program and grant amount.
Food Access
Grant Amount: $2,500
We still purchase most of our food from Blessings of Hope with a donated box truck. We pay the gas. We serve the low-income sector with this pantry as well as those in emergency need in our area and at times our own congregation. We used to get quarterly checks from our Community Aid boxes. We do not get that income now. We have been paying $330 per month but are going to have to go to the next level of $595 per month to get 5,000 lbs of food because the COVID donations have stopped.
Parish Resource Center: "Community Meal Collaboration"
Grant amount: $5,000
Requested funds help fill pandemic-caused gaps in the Lancaster Community Meal Program and ensure community members continue to receive three free meals a day. PRC is collaborating with Commons Company (the B-Corp group behind Prince St. Café, Blue Line, Passenger Coffee), along with several of their suppliers, to rehire furloughed food industry workers to provide additional meals. The proposed project will prepare nutritious Grab 'n Go meals for anyone who needs food.
Emerging Needs
Bench Mark Program: "Enduring Evening Fitness-Based Mentoring"
Grant amount: $2,500
The Covid-19 pandemic and online education have forced at-risk youth to stay home for extended amounts of time in environments that often increase their stress, fuel their anxiety, and exacerbate trauma. Bench Mark Program provides a fitness-focused evening outlet for students to feel safe, find refuge in the company of mentors, and process their emotions through exercise. Under ever-changing circumstances, our gym's dependable operation is often the only consistent part of our student's lives.
Meeting these needs are possible because of you
Thanks to your extraordinary generosity, Lancaster Cares has raised more than $980,000 to support our neighbors, friends, and families across Lancaster County. These are new and unpredictable challenges, and the solutions must change with them. But fortunately, what's most important for creating these solutions has not changed: our extraordinary generosity is shining through these dark times. Our roll-up-your-sleeves, get-the-job-done attitude will pull us through, as it has before. Our generosity is lifting our fellow Lancastrians up; keeping food on their tables, a roof over their heads, and maybe most importantly, offering the hope to see us all through this crisis.
Thank you for supporting Lancaster Cares, and if you haven't yet, give now at LancoCares.org!
Thank you to community champions from both the private and public sector who are tirelessly committed to Lancaster County:
Rodgers & Associates

PPL Corporation

Armstrong Flooring
Community Fund

Truist Cares Fund

7 Foundation Fund

Anne and Robert Bowman
Family Fund

High Foundation

Altria Group, Inc.

LCBC Lancaster City

The Calvin & Janet High
Family Foundation

Mars Wrigley Foundation

North Group Consultants

Arconic Foundation