$14,000 investment from Lancaster Cares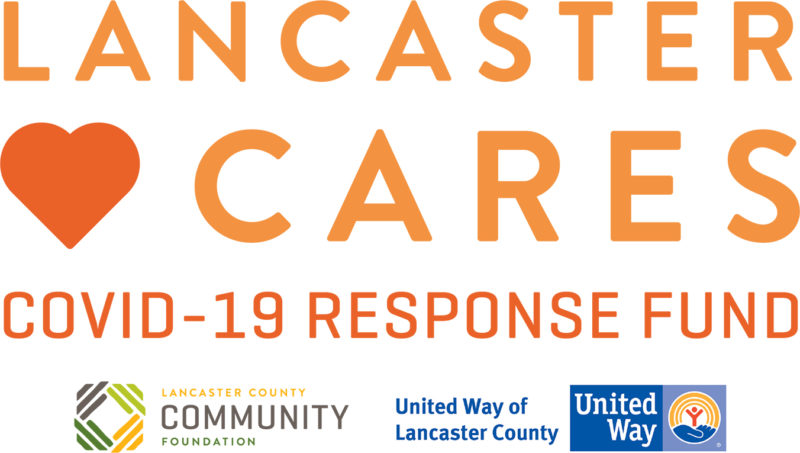 We are proud to announce another $14,420 in investment to three local community benefit organizations to meet the ongoing COVID-19 crisis in Lancaster County.
Thanks to your support to the Lancaster Cares COVID-19 Response Fund, we have together raised more than $980,000 for Lancaster residents. Because of the countless individuals helping to lift up the Lancaster Cares fund, the Community Foundation and the United Way of Lancaster PA are able to provide aid to vital local programs meeting the need of your friends, neighbors, and family. In the past week, you helped support a program that provides meals to food-insecure or homeless individuals, accessibility to classroom space and tutoring for students, and an effort to update a community recreation center.
These funds will continue to be distributed based on the issue areas of Food Access, Housing, and Emerging Needs. Visit our News section for weekly updates on Lancaster Cares Fund community support.
Learn about this week's grantees
We received a large amount of applications for funding, and while we weren't able to fund all the ideas, we are proud to be able to make small grants to as many organizations as possible, seeding many new and creative ideas to address the needs of our community.
Click below to view each organization's proposed Lancaster Cares program and grant amount.
Food Access
Moravian Center of Lancaster- Lancaster Moravian Church: "Community Meal Distribution"
Grant Amount: $5,000
Lancaster City has a wonderful network of churches/organizations that provide 3 meals a day to individuals experiencing homelessness and/or food insecurity. Due to the Covid crisis, some of those entities have needed to stop serving. We have the volunteers, space, and resources to stand in the gap for one of those places to provide brown bag ready to eat meals to anyone who comes to get one twice a week until the crisis ends. We have successfully been doing this since mid-March.
Emerging Needs
Hempfield recCenter: "AED Replacement and COVID Equipment"
Grant amount: $1,000
The demand for safety has been increasing and become a focal point of our facility. COVID-19 has significantly impacted our business and our resources. The decrease in revenue and funds has left us unable to afford the equipment to properly sanitize our facility. Not only only has it impacted our response to COVID-19, but the lack of funds has postponed our plans to replace several refurbished AED's. Both are a very important part of our organization an important to maintain a safe environment.
The Mix at Arbor Place: "Extended Day Learning Hub"
Grant amount: $8,420
We have been approached by the School District of Lancaster along with several other CBO's to collaborate with them by opening and staffing our buildings on an extended/modified schedule to accommodate 100 students. We will provide classroom space and staffing to assist students with online instruction and provide a safe constructive environment for learning and mentoring.
Meeting these needs are possible because of you
Thanks to your extraordinary generosity, Lancaster Cares has raised more than $980,000 to support our neighbors, friends, and families across Lancaster County. These are new and unpredictable challenges, and the solutions must change with them. But fortunately, what's most important for creating these solutions has not changed: our extraordinary generosity is shining through these dark times. Our roll-up-your-sleeves, get-the-job-done attitude will pull us through, as it has before. Our generosity is lifting our fellow Lancastrians up; keeping food on their tables, a roof over their heads, and maybe most importantly, offering the hope to see us all through this crisis.
Thank you for supporting Lancaster Cares, and if you haven't yet, give now at LancoCares.org!
Thank you to community champions from both the private and public sector who are tirelessly committed to Lancaster County:
Rodgers & Associates

PPL Corporation

Armstrong Flooring
Community Fund

Truist Cares Fund

7 Foundation Fund

Anne and Robert Bowman
Family Fund

High Foundation

Altria Group, Inc.

LCBC Lancaster City

The Calvin & Janet High
Family Foundation

Mars Wrigley Foundation

North Group Consultants

Arconic Foundation