Reinventing Our Communities Cohort Launches
Lancaster County Team Joins the Federal Reserve Bank of Philadelphia's Racial Equity and Small Business Support Cohort Program

A cross-sector collaboration of organizations, businesses, and community members in Lancaster County is proud to announce its participation in the Federal Reserve Bank of Philadelphia's second annual Reinventing Our Communities (ROC) cohort program. This program will use a lens of racial justice to focus on equitable business recovery, and to support small business owners and entrepreneurs disproportionately impacted by the COVID-19 pandemic, and those that have been historically and systematically oppressed.
Lancaster County is represented by: ASSETS, Community Action Partnership of Lancaster County, Lancaster City Alliance, Lancaster City Council, Lancaster County Chamber of Commerce, Lancaster County Community Foundation, PhotOle Photography, The Cultured Professional Network, United Way of Lancaster County, Waller Tax & Financial Services, and YWCA of Lancaster.
Over this 10-month program, the cohort will:
Participate in racial equity training led by Race Forward, a nonprofit racial justice organization, and in smaller group trainings with practitioners with business expertise
Engage Lancaster County businesses and the larger community throughout this initiative to ensure their voices are represented in any strategies that are developed

Identify structural barriers that business owners face, and develop recommendations for equitable business recovery using input from the community, to enhance and fill in gaps that may exist in current initiatives
"Small businesses play many roles in the U.S. economy as drivers of job growth and innovation, creators of employment opportunities, and engines for building regional economies," said Theresa Singleton, senior vice president of the Community Development and Regional Outreach Department at the Federal Reserve Bank of Philadelphia. "However, the pandemic exposed the vulnerabilities of small businesses, especially small businesses owned by people of color, and created urgency around the need for equitable support. We are excited to work with this team in Lancaster County on approaches that prioritize racial equity in their small business support."
Whitney Lupton, Chief Marketing Officer at The Cultural Professional and member of the Lancaster County ROC cohort mentioned, "It is such an honor to be working alongside the Federal Reserve Bank of Philadelphia. I am so excited to be a cohort member of Reinventing Our Communities here in Lancaster and being provided the opportunity to network and learn with various cities across the country, including Philadelphia, my hometown. We strive to explore and present viable resources to produce sustainable impact for long term equitable change for Black people and other persons of color in our local area for businesses."
As the Lancaster County cohort progresses through the program, the team is committed to continuously share information about their learning journey. They also recognize that the cohort is not fully representative of our community. Therefore, they want to continuously reach out to other community members and leaders for insights, and to bring in more voices throughout this initiative.
Learn more about the
2021 ROC cohort program
, share your insights, or participate in a Lancaster County
ROC
cohort meeting!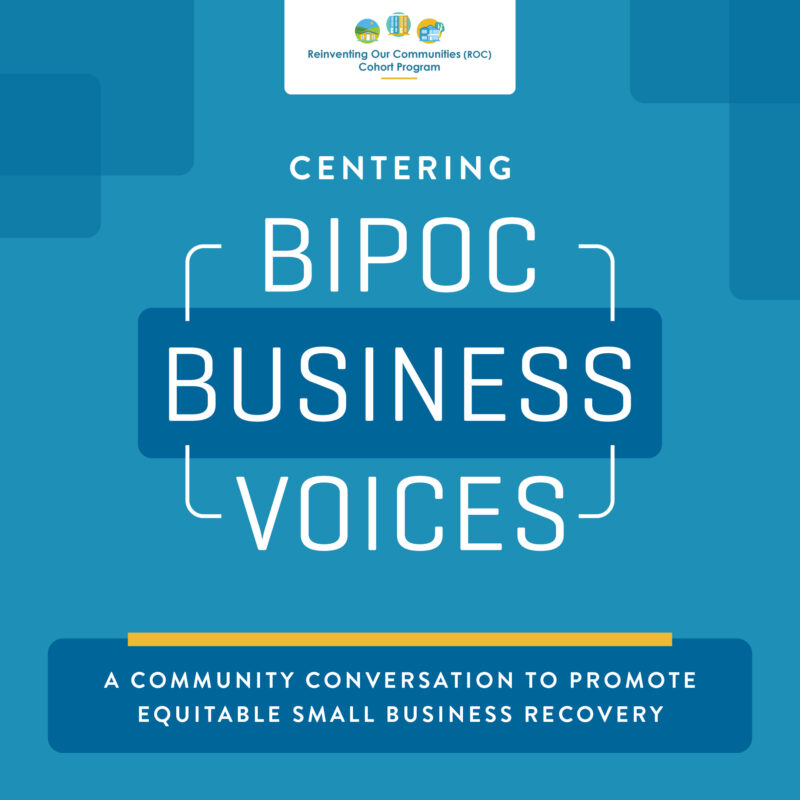 We want to invite small business owners to share your stories, what is important to your business, your aspirations for small business support, and what the community can do to help you succeed.
Join us at a community conversation:
October 19 at Cafe 301 from 6:00 pm to 7:30 pm
November 4 through Zoom from 6:00 pm to 7:30 pm
November 9 at Brightside Opportunities Center from 6:00 pm to 7:30 pm
*In person events will be catered by a local small business