$15,000 investment from Lancaster Cares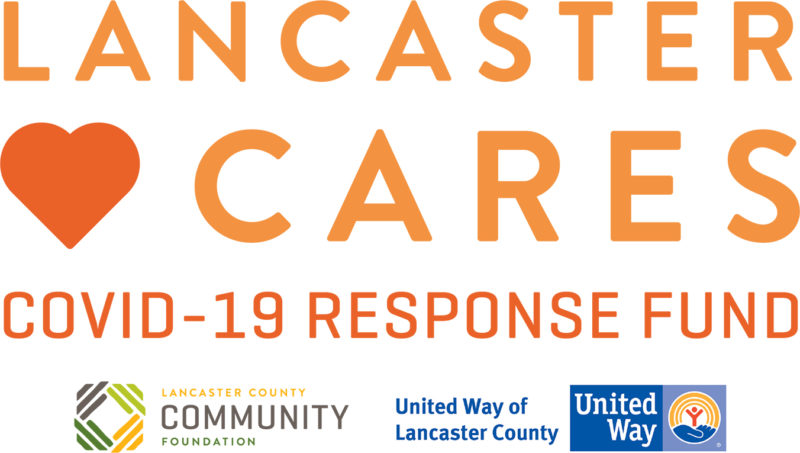 We are proud to announce another $15,000 in investment to 5 local community benefit organizations to meet the ongoing COVID-19 crisis in Lancaster County.
Thanks to your support to the Lancaster Cares COVID-19 Response Fund, we have together raised more than $980,000 for Lancaster residents. Because of the countless individuals helping to lift up the Lancaster Cares fund, the Community Foundation and the United Way of Lancaster PA are able to provide aid to vital local programs meeting the need of your friends, neighbors, and family. In the past week, you helped support a program that trains and places service dogs with individuals experiencing a wide range of disabilities, you supported a partnership that is working to provide temporary housing for those experiencing homelessness, and much more.
These funds will continue to be distributed based on the issue areas of Food Access, Housing, and Emerging Needs. Visit our News section for weekly updates on Lancaster Cares Fund community support.
Learn about this week's grantees
We received a large amount of applications for funding, and while we weren't able to fund all the ideas, we are proud to be able to make small grants to as many organizations as possible, seeding many new and creative ideas to address the needs of our community.
Click below to view each organization's proposed Lancaster Cares program and grant amount.
Food Access
Housing
Safe Families for Children: "Safe Families Interim Housing Project"
Grant amount: $6,000
We plan to partner with Black Rock Retreat, to provide temporary housing for homeless families on their nearly 100-acre campus. Families will be housed in private rooms with their own private bathroom. Families basic needs will be provided, as well as case management.
Emerging Needs
Canine Partners for Life: "COVID-19 Sustainability for Canine Partners for Life"
Grant amount: $1,000
Since 1989, Canine Partners for Life (CPL) has been dedicated to training service dogs, home companion dogs, residential companion dogs, and courthouse companion dogs to assist individuals who have a wide range of physical, developmental, and cognitive disabilities. Over the last 31 years CPL has placed more than 750 service, medical alert, companion, and courthouse dogs within Lancaster County, PA, and the broader United States. CPL provides current support to over 200 active teams.
Faith Friendship Ministries: "COVID-19 Response"
Grant amount: $4,000
We have been actively working to obtain the necessary personal protective equipment, develop and implement alternate in-house activities for our residents, and continue to accept those in need of housing through this difficult time. To date, we have 0 cases of COVID-19 among our residents and 1 case in our staff that we are aggressively fighting through full-property decontamination, increased sanitation, disinfecting and heightened vigilance over our potential risk areas.
Water Street Ministries: "Serving Amid COVID-19"
Grant amount: $2,000
This project is adapting our operations to follow the guidance from the CDC, our local health care partners, and our government officials.
To better serve and keep the guests safer and healthier at the mission cleaning has become a major priority. With some of our staff working remotely and some impacted by the virus, we need to ensure we have enough staff to complete the necessary day to day activities on campus and have hired some temporary staff to help us during the COVID-19 season.
Meeting these needs are possible because of you
Thanks to your extraordinary generosity, Lancaster Cares has raised more than $980,000 to support our neighbors, friends, and families across Lancaster County. These are new and unpredictable challenges, and the solutions must change with them. But fortunately, what's most important for creating these solutions has not changed: our extraordinary generosity is shining through these dark times. Our roll-up-your-sleeves, get-the-job-done attitude will pull us through, as it has before. Our generosity is lifting our fellow Lancastrians up; keeping food on their tables, a roof over their heads, and maybe most importantly, offering the hope to see us all through this crisis.
Thank you for supporting Lancaster Cares, and if you haven't yet, give now at LancoCares.org!
Thank you to community champions from both the private and public sector who are tirelessly committed to Lancaster County:
Rodgers & Associates

PPL Corporation

Armstrong Flooring
Community Fund

Truist Cares Fund

7 Foundation Fund

Anne and Robert Bowman
Family Fund

High Foundation

Altria Group, Inc.

LCBC Lancaster City

The Calvin & Janet High
Family Foundation

Mars Wrigley Foundation

North Group Consultants

Arconic Foundation