NEW $15,000 investment from Lancaster Cares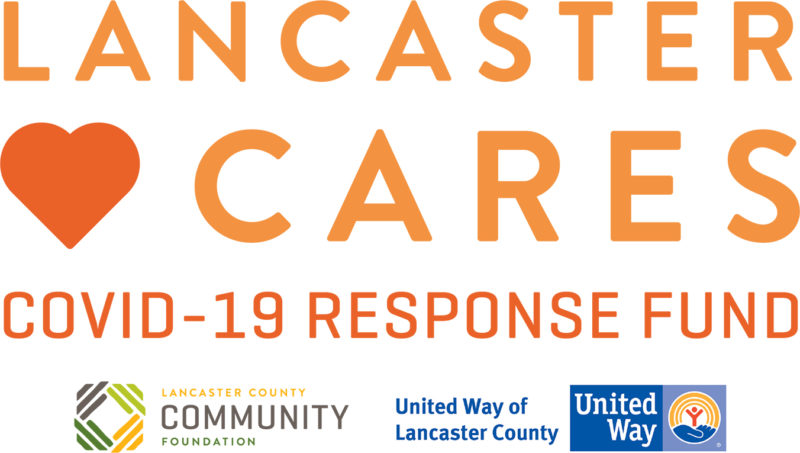 We are proud to announce another $15,000 in investment to two local community benefit organizations to meet the ongoing COVID-19 crisis in Lancaster County.
Thanks to your support to the Lancaster Cares COVID-19 Response Fund, we have together raised more than $980,000 for Lancaster residents. Because of the countless individuals helping to lift up the Lancaster Cares fund, the Community Foundation and the United Way of Lancaster PA are able to provide aid to vital local programs meeting the need of your friends, neighbors, and family. In the past week, you helped support local artists afford food and necessities, and a program that helps mothers and babies overcome substance use disorders.
These funds will continue to be distributed based on the issue areas of Food Access, Housing, and Emerging Needs. Visit our News section for weekly updates on Lancaster Cares Fund community support.
Learn about this week's grantees
We received a large amount of applications for funding, and while we weren't able to fund all the ideas, we are proud to be able to make small grants to as many organizations as possible, seeding many new and creative ideas to address the needs of our community.
Click below to view each organization's proposed Lancaster Cares program and grant amount.
Food Access
PRiMA Arts, Inc.: "Feeding Performing Arts Professionals"
Grant amount: $5,000
The arts have been struck especially hard by the economic impact of COVID-19. In order to support local theatre artists, designers, and administrators, $100 grocery gift cards are an important salve to this extremely challenging time, while performing arts progressional in our community work diligently at providing for their families.
Meeting these needs are possible because of you
Thanks to your extraordinary generosity, Lancaster Cares has raised more than $980,000 to support our neighbors, friends, and families across Lancaster County. These are new and unpredictable challenges, and the solutions must change with them. But fortunately, what's most important for creating these solutions has not changed: our extraordinary generosity is shining through these dark times. Our roll-up-your-sleeves, get-the-job-done attitude will pull us through, as it has before. Our generosity is lifting our fellow Lancastrians up; keeping food on their tables, a roof over their heads, and maybe most importantly, offering the hope to see us all through this crisis.
Thank you for supporting Lancaster Cares, and if you haven't yet, give now at LancoCares.org!
Thank you to community champions from both the private and public sector who are tirelessly committed to Lancaster County:
Rodgers & Associates

PPL Corporation

Armstrong Flooring
Community Fund

Truist Cares Fund

7 Foundation Fund

Anne and Robert Bowman
Family Fund

High Foundation

Altria Group, Inc.

LCBC Lancaster City

The Calvin & Janet High
Family Foundation

Mars Wrigley Foundation

North Group Consultants

Arconic Foundation