Introducing our new Program Officer
Welcome Alma!
We're thrilled to welcome the newest member of the LancFound family, Alma Felix! Originally from San Luis, Arizona, Alma moved to Pennsylvania to study Mathematics and Public Health at Albright College, and we're so privileged to add her expertise, passion, and enthusiasm to the work of emboldening extraordinary community in Lancaster County.
We could tell you all about Alma, but we thought it would be even better to have her introduce herself!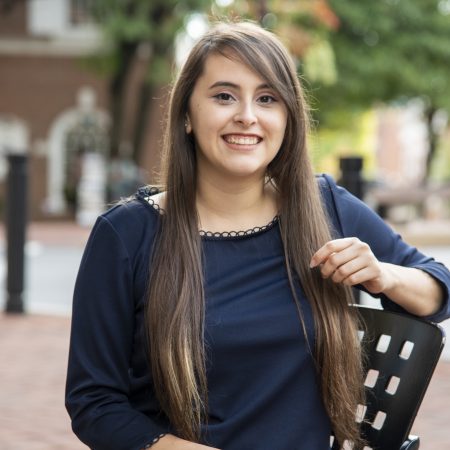 five very important questions
What's your favorite thing about Lancaster?
My favorite thing about Lancaster is the diversity and the different way each culture contributes to the community, and how it is manifested. Whether it is through food, art, events, businesses or interactions, I can see the community growing and moving forward to becoming even more inclusive.
What's your all-time favorite book, movie, or TV show?
It is really hard to pick favorites, but a book that I enjoyed a lot is Flatland because it really made me think about the properties of the world we live in, and to think out of the box, I highly recommend it.
As far as a favorite movie or TV show, it is also really hard to pick one because I love watching both, and it was one of the things that I did with my family growing up. Almost every day we would rent out a movie, get food, and sit together in the living room eating and watching what we picked out. I did however get into Anime when I was in college, and I have been completely obsessed with Hunter x Hunter for a couple of years now, it is so good!
What makes you hopeful about your community?
Working at the Community Foundation, I have gotten to realize that there are many organizations working to improve the community. Seeing how many people are involved makes me hopeful.
If you could only have one food for the rest of your life, what would it be?
It would definitely be Birria, it is soooooo good! (it needs that many O's). My grandma's Birria is probably my favorite!
What's your real life superpower?
I like to think that my real life superpower is my positive and cheery attitude. I like smiling, being goofy, bringing energy to a room, making people laugh, and laughing at myself. I think it is just a part of who I am and I embrace it.
Welcome to the team, Alma! We're lucky to have you and can't wait to see what extraordinary things you accomplish!