Activate Lancaster County
To better focus our efforts to the changing needs of the community during this pandemic, we are canceling this grant program.
We are hopeful that in the future we can continue to expand this extraordinary work. Stay tuned for information about our response to COVID-19.
The Activate Lancaster County Program will empower local communities throughout Lancaster County with training and resources to effectively utilize community centered design (CCD) principles to create inclusive and thriving communities, using a unique approach that emboldens local residents. We seek community partners who are passionate about bringing change to diverse areas of Lancaster County, demonstrate commitment to learn about CCD principles, and are dedicated to deep listening and relationship building to make decisions with, rather than for, the community they serve.
Community Benefit Organizations (CBOs) will assemble five member teams who will engage in a five session workshop series as part of a cohort. This series will be facilitated by a combination of Community Foundation staff members and outside consultants who have experience using CCD to enhance communities. Teams should include at least one member from the CBO applicant, and can include other CBO partners, board members, municipal leaders, or community members interested in engaging in this work.
Four grants of $5,000 are available for this program.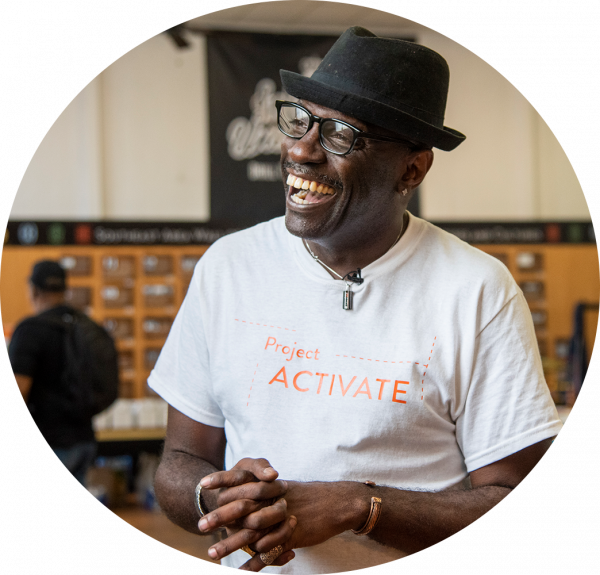 The Cohort Experience
The objective of the cohort will be to learn about community centered design to identify community challenges to tackle, and provide a mutually supportive environment from which localized projects can be launched. We ask that cohort members come ready to learn and without preconceived ideas as to where this process will lead their community.
Workshops: October 20, 2020, January 19, 2021, March 23,
May 25, August 17
Completion report: Due October 30, 2021
*Workshop attendance is required. Failure to maintain grant requirements may affect your ability to apply for future grants.
Human Centered Design vs. Community Centered Design

Human Centered Design
Human centered design (HCD) is a problem-solving method that seeks heavy input from end users throughout the entirety of the design process. HCD was initially focused on developing high quality consumer products that precisely fit the user's wants and needs. A team of designers works intensively with groups of end-users—frequently leading to innovation and better products on the market. As it became apparent that human centered design has proven to be an effective strategy in developing consumer products, some organizations began to try out the human centered design process with the goal of building stronger communities and solving social problems by closely involving and listening to the "end-user" residents.
Community Centered Design
We believe that deep listening to residents—to the point where residents drive the community building process—is essential to success, but that the most effective process will vary a bit from place to place. While human centered design lays out guiding principles, local communities have the flexibility to use certain elements of the process and adjust others as the local environment dictates. For these reasons, we are beginning to call this work "community centered design."
Evaluation Criteria
Please note that this is not a typical grant application, in which we ask for a defined project and a budget. You are applying to be part of a learning cohort, and funding will be made available for a project that comes as a result of the learning that takes place. Your application will be evaluated on the following items:
• Team Composition – Who will be part of the team? What is the team's experience working in the community? Are differing and diverse perspectives represented?
• Readiness – Are team members able to commit to the learning process? Is the community ready to engage in a new, perhaps unfamiliar process? Does the applying CBO have buy-in from the local community? Are diverse community members ready to engage?
• Support Structure – Is the applicant organization working with partners who have resources to bring? Are municipal leaders supportive of this approach? Does at least one organization have agency to make decisions and leverage resources to move projects forward?
TO BETTER FOCUS OUR EFFORTS TO THE CHANGING NEEDS OF THE COMMUNITY DURING THIS PANDEMIC, WE ARE CANCELING THIS GRANT PROGRAM.
WE ARE HOPEFUL THAT IN THE FUTURE WE CAN CONTINUE TO EXPAND THIS EXTRAORDINARY WORK. STAY TUNED FOR INFORMATION ABOUT OUR RESPONSE TO COVID-19.