The Manheim Township Public Library Foundation
About the Organization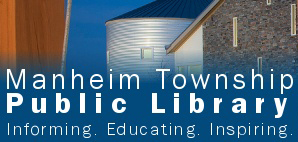 The Manheim Township Public Library Foundation works to provide to its community a vibrant community center where people can connect and have access to what they need to achieve their greatest potential. In order for the Library to achieve their mission they strive to develop partnerships with organizations such as the Manheim Township Recreation Department, the Manheim Historical Society, and other local organizations that support and promote reading, literacy, and lifelong learning. The library also strives to improve visibility and awareness of Library services, programs, collections and databases to ensure that all members are yielding the full benefits.
Why is endowment important to your mission?
An increasingly important part in continuing the beneficiary aspects of the library is to identify and secure reliable sources of revenue for daily operations as well as long-term planning and investment. The Manheim Township Public Library Endowment Fund was started to ensure that the library would continue to provide services and programs to the members of Manheim Township.
The Manheim Township Public Library Foundation
595 Granite Run Drive
Lancaster, PA 17601
717-560-6441