$15,000+ investment from Lancaster Cares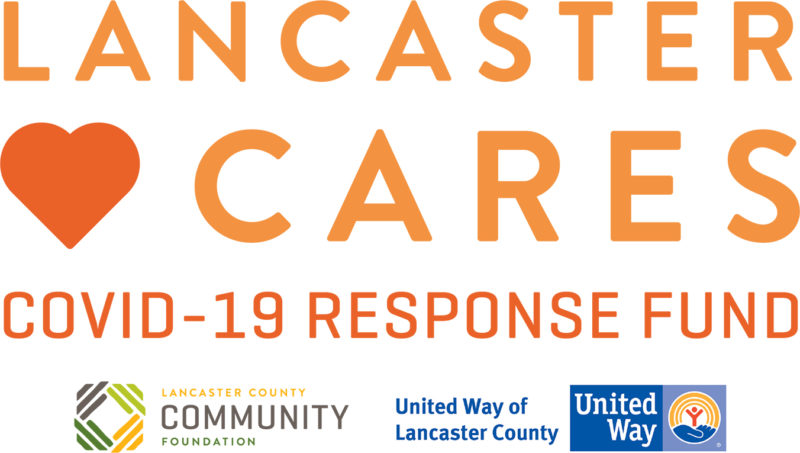 We are proud to announce another $15,915 in investment to 4 local community benefit organizations to meet the ongoing COVID-19 crisis in Lancaster County.
Thanks to your support to the Lancaster Cares COVID-19 Response Fund, we have together raised more than $980,000 for Lancaster residents. Because of the countless individuals helping to lift up the Lancaster Cares fund, the Community Foundation and the United Way of Lancaster PA are able to provide aid to vital local programs meeting the need of your friends, neighbors, and family. In the past week, you helped support a program that provides protective gear to health professionals, a partnership to maintain virtual medicare for vulnerable populations, as well as, efforts to curb hunger and food insecurity.
These funds will continue to be distributed based on the issue areas of Food Access, Housing, and Emerging Needs. Visit our News section for weekly updates on Lancaster Cares Fund community support.
Learn about this week's grantees
We received a large amount of applications for funding, and while we weren't able to fund all the ideas, we are proud to be able to make small grants to as many organizations as possible, seeding many new and creative ideas to address the needs of our community.
Click below to view each organization's proposed Lancaster Cares program and grant amount.
Food Access
CrossNet Ministries: "ELANCO Covid-19 Relief Fund"
Grant Amount: $6,000
CrossNet Ministries continues to operate its food and social service programs during this crisis. We have witnessed first hand the increase in needs in Eastern Lancaster County. In response to the Coronavirus outbreak and resulting economic crisis, we've created a special fund, ELANCO's Covid-19 Relief Fund to support community members who need extra assistance at this time.
Water Street Ministries: "Water Street Mission Outreach Center Fighting Hunger Amidst COVID"
Grant Amount: $5,415
This project is to provide food to our neighbors especially recognizing there are more families in need during this season following the safety guidelines from the CDC, our local health care partners, and our government officials.
Water Street's Outreach Center focuses on those living at or near the poverty line, who are most-at-risk of experiencing hunger in our Lancaster community by providing food to help individuals and families.
Emerging Needs
Planned Parenthood Keystone (PPKeystone) Telehealth Program
Grant amount: $4,000
On April 3, PPKeystone launched a telehealth program that allows patients access to high-quality affordable reproductive health care services by phone and/or through a private and secure video conferencing platform. On May 4, PPKeystone was proud to add at-home STI (sexually-transmitted infection) testing and treatment to our telehealth offerings. Telehealth is expanding access to services like birth control supply, urinary tract infections and vaginitis treatments, and emergency contraception.
Wakefield Ambulance Association: "Protect the Rescuers"
Grant amount: $500
WAA seeks funding from the Lancaster County Community Foundation to purchase much-needed protective equipment and basic disposable supplies to treat COVID positive patients in the southern end of the county. WAA has experienced a significant increase in the utilization of protective equipment and supplies that, combined with the decrease in reimbursement from care that is now unreimbursed, places a strain on our operating budget.
Meeting these needs are possible because of you
Thanks to your extraordinary generosity, Lancaster Cares has raised more than $980,000 to support our neighbors, friends, and families across Lancaster County. These are new and unpredictable challenges, and the solutions must change with them. But fortunately, what's most important for creating these solutions has not changed: our extraordinary generosity is shining through these dark times. Our roll-up-your-sleeves, get-the-job-done attitude will pull us through, as it has before. Our generosity is lifting our fellow Lancastrians up; keeping food on their tables, a roof over their heads, and maybe most importantly, offering the hope to see us all through this crisis.
Thank you for supporting Lancaster Cares, and if you haven't yet, give now at LancoCares.org!
Thank you to community champions from both the private and public sector who are tirelessly committed to Lancaster County:
Rodgers & Associates

PPL Corporation

Armstrong Flooring
Community Fund

Truist Cares Fund

7 Foundation Fund

Anne and Robert Bowman
Family Fund

High Foundation

Altria Group, Inc.

LCBC Lancaster City

The Calvin & Janet High
Family Foundation

Mars Wrigley Foundation

North Group Consultants

Arconic Foundation