The Next 50 (Fifty) Years Fund

This fund will be used to impact the children who come into Water Street Mission and those who attend the Wonder Club. Our goal is to make each child feel valued and to give children a learning foundation for life. This fund was established by Sally and Geoff Davis.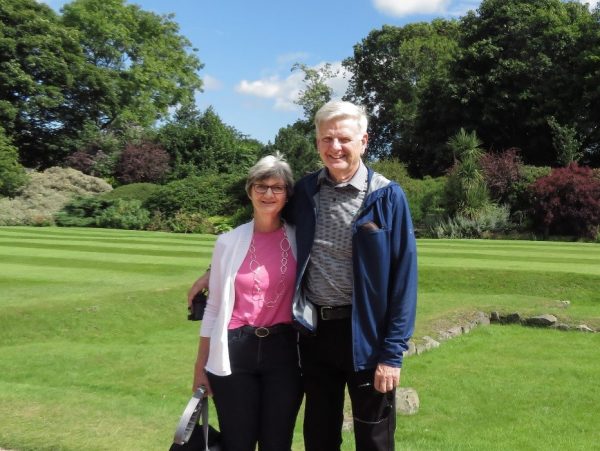 The Inspiration for the fund:
On May 29, 2019 Sally and I celebrated a significant milestone in our lives – fifty years of marriage. During that fifty years, we've been blessed with a strong faith; two sons who are good men and good fathers; beautiful, smart, and lively granddaughters; meaningful, purposeful work; and a love that has gotten better and stronger the more we age.
As we approach this anniversary, we started thinking about how best to celebrate. Should we do what so many other couples do? Should we take a cruise, a "trip-of-a-lifetime," buy a beach house, or indulge ourselves in some other way? That's not really us.
Two passages from the Bible that I have framed and sitting on my desk influenced our thinking.
Luke 12:48: "From everyone who has been given much, much will be demanded; and from the one who has been entrusted with much, much more will be asked. "
2 Corinthians 9:10-15: "10 Now he who supplies seed to the sower and bread for food will also supply and increase your store of seed and will enlarge the harvest of your righteousness. 11 You will be enriched in every way so that you can be generous on every occasion, and through us your generosity will result in thanksgiving to God.
12 This service that you perform is not only supplying the needs of the Lord's people but is also overflowing in many expressions of thanks to God. 13 Because of the service by which you have proved yourselves, others will praise God for the obedience that accompanies your confession of the gospel of Christ, and for your generosity in sharing with them and with everyone else. 14 And in their prayers for you their hearts will go out to you, because of the surpassing grace God has given you. 15 Thanks be to God for his indescribable gift!"
That left us asking ourselves what is being asked of us after fifty years of being blessed? How could we be generous in every way? How could we thank God for all he's done? What could we do that would last another fifty years (long after we're gone)? How could we make this something our sons and granddaughters could carry on?
A Heart for Kids – A Heart for the Homeless
We have a heart for kids who lack the basic necessities of life. Sally has some heartbreaking stories of kids in poverty while she was a reading specialist at Hempfield. One child got a winter coat and his mother sold it, so the kid went without a winter coat. There were kids who would go home on Friday and not get a hot meal until they came back to school on Monday. Some came to school in the same, dirty clothes every day. She saw kids who had never been to the dentist or the doctor, with blackened, decayed teeth.
One story particularly impacted Sally. A father worked at night, so his sons went to a baby-sitter and he picked them up at midnight. She didn't always give them dinner. When their teachers found out about this, they began giving them something to eat before they went home. The boys were accepted to the Milton Hershey School where they got the boost they needed and are doing well. But not every kid gets that advantage.
When I worked in Harrisburg, I would drive up Second Street to Market Street and, on the coldest mornings of the years, I remember seeing homeless people – men, women and children – huddled over the heating vents at the bus stop at the corner of that intersection. I remember thinking how could anyone survive in those conditions? What future was there for those kids? What could I possible do to ease this human suffering?
I remember playing a New Year's Eve job at the Liederkranz (German-American Club) when it was on Queen Street and we were warned to watch out for the three people living in the tow truck parked in the back lot. It was about 10 degrees and I can still remember the thought of what it must have been like – freezing cold with two men and a woman living in a tow truck in the parking lot.
Our Vision
We want to help give homeless children or children living in poverty some help in creating meaningful, thriving lives. We believe that, in our country, it's possible to rise from poverty to become a contributing member of society, able to establish and fulfill dreams of the kind of life each person imagines. We've seen example after example of that during our fifty years of marriage. We've experienced hard times in our own lives.
Our top priority is to impact the children who come into Water Street Mission and those who attend the Wonder Club. Our vision is for the children in the homeless shelter to receive a gift on their birthday – a book or some token to celebrate their special day in a memorable way and have them have something that's theirs. It's heartbreaking for a six-year-old not to receive something on his or her birthday. We envision this gift given to children up to 12 years old. A birthday gift on his or her birthday will make him or her feel valued and important.
If we help with Wonder Club, education is a great start for children. The most important, foundational learning starts in pre-school – when your brain forms, you learn the wonder of learning, develop habits that will guide your life, get the foundation that will help each child not fall so far behind when he or she enters public school. It's our investment in the next fifty years.
We don't want this fund to become a source of revenue that gets lost in the annual budget of the organization and used for day-to-day expenditures.
How You Can Help
In lieu of any gifts for our fifty-year anniversary, we're asking friends and family to participate in the establishment of our The Next Fifty Years Fund.*
We've established this donor-advised fund through the Lancaster County Community Foundation, who will serve as administrators of this initiative.
*Donations to this fund will help support children and education. Sally and Geoff Davis are the founding donors and advisors for recommending grants from this fund. A gift to this fund does not entitle the donor to any influence on how or where the dollars are invested.