$30,000 investment from Lancaster Cares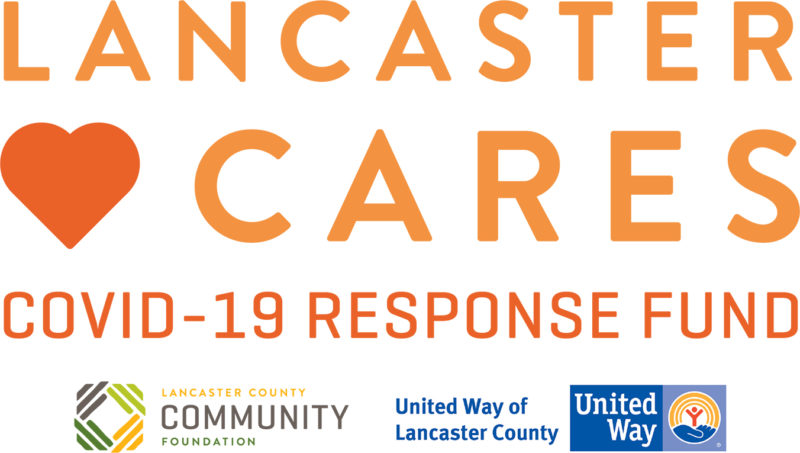 We are proud to announce another $30,000 in investment to 9 local community benefit organizations to meet the unfolding COVID-19 crisis in Lancaster County.
Thanks to your support to the Lancaster Cares COVID-19 Response Fund, we have together raised nearly $900,000 for Lancaster residents. Because of the countless individuals helping to lift up the Lancaster Cares fund, the Community Foundation and the United Way of Lancaster PA are able to provide aid to vital local programs meeting the need of your friends, neighbors, and family. In the past week, you helped support programs that assist children, refugees, pet owners, front line direct support staff and more.
These funds will continue to be distributed based on the issue areas of Food Access, Housing, and Emerging Needs. Visit our News section for weekly updates on Lancaster Cares Fund community support.
Meet the 9 organizations
We received a large amount of applications for funding, and while we weren't able to fund all the ideas, we are proud to be able to make small grants to as many organizations as possible, seeding many new and creative ideas to address the needs of our community.
Click below to view each organization's proposed Lancaster Cares program and grant amount.
Food Access
Grant Amount: $2,000
CASA's Food Access Project provides grocery deliveries and case management support to Lancaster County families impacted by the COVID-19 pandemic.
Power Packs Project: "Providing Nutritious Weekend Meals for Children and Families during the COVID-19 Pandemic"
Grant amount: $10,000
Power Packs aims to improve the mental and physical health of children by helping their parents provide nutritious meals over weekends when school breakfast and lunch programs are unavailable to them. During the COVID-19 crisis, we are working closely with five Lancaster County school districts to identify families who need weekend meals and to distribute meal packs every Thursday. Power Packs plans to continue weekend meal distribution for the rest of the school year and into the summer.
Housing
Elizabethtown Community Housing & Outreach Services: "ECHOS Housing Support "
Grant amount: $2,000
ECHOS first steps when interacting with clients are eviction prevention and diversion. Our trained staff take the necessary steps to help families avoid homelessness and obtain proper resources to keep them in their home. When eviction cannot be avoided, clients are enrolled in one of our various housing programs. Here, clients work one-on-one with staff through budgeting, goal-planning, counseling, and resource referrals to gain the necessary tools and knowledge to be successful.
Faith Friendship Ministries: "COVID-19 Reponse"
Grant amount: $1,000
We have been actively working to obtain the necessary personal protective equipment, develop and implement alternate in-house activities for our residents, and continue to accept those in need of housing through this difficult time. To date, we have 0 cases of COVID-19, we have kept our residents home yet engaged and active, and we have accepted 3 new residents and will accept another new resident next week, continuing our efforts to fight homelessness and build family.
Milagro House: "Flattening the Curve & Increasing Impact: A Collaboration between Milagro House and Clare House"
Grant amount: $5,000
Milagro House and Clare House will work collaboratively to provide vital housing, food access, case management, and transportation support to women and children who would otherwise be experiencing homelessness. Together, these two small non-profits represent a significant community access point for providing services to a marginalized demographic that represents a substantial percentage of those in our community struggling with poverty.
Red Rose Intercultural and Educational Foundation: "Helping Hands to New Americans"
Grant amount: $1,000
In the recent months we have had many new families arrived in the Lancaster County area from Turkey escaping the political prosecution.Families from Turkey have been resettled in Lancaster County by the help of Red Rose Foundation. These families got hit the worst in the middle of this crisis and they have no means to overcome the difficulties. We need help to provide them for rent,utilities and food during this Covid 19 crisis. They have young children, no funds to pay rent or buy food.
Emerging Needs
Grant amount: $2,000
Though all four of EASS core programs have been impacted by the COVID-19 pandemic, funds secured through the Lancaster Cares Response Fund will primarily support:
1. Individuals and families experiencing financial hardship, particularly in rent and utilities.
2. Hotel stays for individuals/families who are unable to find emergency shelter or housing immediately.
3. Gas cards so individuals/families continue to have transportation.
4. Purchase food supplies for clients and homebound seniors.
Excentia (d.b.a. S. June Smith Center): "Excentia COVID-19 Crisis Response"
Grant amount: $5,000
Excentia Human Services is requesting a grant to help support and protect our front line direct support staff during the COVID-19 pandemic. Funds will be used to help purchase personal protective equipment (PPE) and grocery store gift cards for staff working to support people with disabilities in Lancaster.
Pennsylvania Society for the Prevention of Cruelty to Animals (PSPCA): "Lancaster Pet Food Program for Needy Citizens"
Grant amount: $2,000
Funds are requested to support the the purchase of dog and cat food for needy pet owners in Lancaster County. The financial crisis has caused tens of thousands of pet owners in the County to loose employment. Those who lack the resources to feed their pets have turned to the Lancaster Center. With its reserves exhausted, the Center can no longer provide food to needy citizens without support. As a result, we predict an increase in strays and surrenders that will encumber the Center's mission.
Meeting these needs are only possible because of you
Thanks to your extraordinary generosity, Lancaster Cares has raised nearly $900,000 to support our neighbors, friends, and families across Lancaster County. These are new and unpredictable challenges, and the solutions must change with them. But fortunately, what's most important for creating these solutions has not changed: our extraordinary generosity is shining through these dark times. Our roll-up-your-sleeves, get-the-job-done attitude will pull us through, as it has before. Our generosity is lifting our fellow Lancastrians up; keeping food on their tables, a roof over their heads, and maybe most importantly, offering the hope to see us all through this crisis.
Thank you for supporting Lancaster Cares, and if you haven't yet, give now at LancoCares.org!
Thank you to community champions from both the private and public sector who are tirelessly committed to Lancaster County:
Rodgers & Associates

PPL Corporation

Anne and Robert Bowman
Family Fund

Truist Cares Fund

7 Foundation Fund

LCBC Lancaster City

High Foundation

Altria Group, Inc.

North Group Consultants/
North Foundation

The Calvin & Janet High
Family Foundation

Armstrong Flooring




Community Fund